Mississippi Auto Insurance [Rates + Cheap Coverage Guide]
Mississippi requires 25/50/25 for bodily injury and property damage coverage. The average cost of auto insurance in MS is $82.84/mo.
Free Car Insurance Comparison
Compare Quotes From Top Companies and Save
Secured with SHA-256 Encryption
Free Car Insurance Comparison
Compare Quotes From Top Companies and Save
Secured with SHA-256 Encryption
UPDATED: Apr 29, 2022
It's all about you. We want to help you make the right coverage choices.
Advertiser Disclosure: We strive to help you make confident auto insurance decisions. Comparison shopping should be easy. We are not affiliated with any one auto insurance provider and cannot guarantee quotes from any single provider. Our partnerships don't influence our content. Our opinions are our own. To compare quotes from many different companies please enter your ZIP code on this page to use the free quote tool. The more quotes you compare, the more chances to save.
What defines Mississippi as a state? Its spelling-bee-worthy name? Its mighty, sprawling river? The oppressive summer humidity? However you choose to define Mississippi, it's a state that offers some beautiful views, good eats, and an excellent taste of America's South.
Naturally, anyone touring through the great Magnolia State will want to do what she can in order to stay safe while on the road. Locals, too, have to combat rainy seasons like no other in the United States, which can bring on floods that leave some roads impassable.
That's where we come in. We're here to help you stay on top of all of Mississippi's roadway know-how and to guide you through the process of choosing the auto insurance that's right for you as a soon-to-be resident, old timer, or visitor in the state.
Take a peek through our guide to Mississippi's roadways, and you'll find information on all of the state's insurance providers. If you're looking to find the rate that's best for you, you can even take advantage of our FREE online tool and compare insurance rates based on your zip code.
Ready to get started? Let's move forward and conquer the roadways of Mississippi together.
Mississippi Minimum Coverage
Like most other states, residents who have their cars registered in Mississippi are required by law to have auto insurance, even if it's just the minimum that the state offers. If you're on a budget, though, or new to the auto insurance market, it can be difficult to navigate through all of the different kinds of coverage that are available to you and how rates compare across the United States.
Comprehensive, liability, at-fault – what is all that?
Take a look below, and you'll find easy-to-understand guides to these types of coverage and more.
As we mentioned, drivers in Mississippi must have auto insurance in order to legally be on the road. For folks on a budget, managing that can be a little difficult. As such, Mississippi lays out its minimum required coverage in straightforward language.
The state of Mississippi makes use of a 25/50/25 minimum liability limit, as noted by AAA. This means that your insurance will need to be broken down into the following:
25 – you'll need $25,000 of coverage in order to attend to the injuries of a single person
50 – you'll need $50,000 of coverage in order to cover the total injuries per accident
25 – you'll need $25,000 of coverage in order to pay for the replacement of any property that might be damaged during an accident.
That may seem like a hefty amount of coverage for a state minimum but think about it. Mississippi representatives want to ensure that anyone who gets in an accident on one of the state's interstates will be able to receive the medical and personal attention that they need in order to recover.
If it were you on the other end of an accident, after all, you'd want the person who ran into you to be insured – right?
Forms of Financial Responsibility
Mississippi drivers are also required by law to have a form proving that they hold the state minimum coverage or more in their cars or on their person while driving at all times.
If you've ever been in a car accident or gotten pulled over by a police cruiser, you know the benefit of having one of these forms on hand. Forms of financial responsibility are more than just convenient, though. If you're found driving without proof of insurance, you will face legal consequences.
With that scare tactic out of the way, what kind of paperwork serves as proof of insurance? You can use any of the following:
Insurance ID Card
Your Insurance Policy's Certificate
A Certificate of Deposit which indicates that you've paid your insurance dues to the Mississippi State Treasurer
Proof of a bond
Premiums as a Percentage of Income
Let's change gears for a moment. We've already touched on minimum coverage. If you're considering investing in more, though, you should consider your per capita disposable income.
Your per capita disposable income is the income that you are able to spend after you've paid your taxes for the year. As it turns out, that leftover income can impact the amount of money you'll have to pay as a premium when seeking out auto insurance coverage in the state of Mississippi.
On average, Mississippi residents report a per capita income of $31,365 per year.
That means as a resident of Mississippi, you'll have, on average, $2,613.75 to spend a month once you've paid your taxes. All of that money will then be divided between your rent, groceries, utilities, and any other bills you have to pay.
On average, Mississippi's full coverage auto insurance costs $957.59 per year.
On a monthly basis, then, a person paying for full coverage auto insurance will be expected to pay $79.80 to their auto insurance company.
That may seem like a hefty number. As a matter of fact, though, Mississippi's state average for comprehensive auto insurance coverage is reasonably close to the countrywide average. Across the United States as a whole, most drivers pay around $981 per year for full coverage auto insurance, meaning that their monthly payments come in at just above Mississippi's rate.
You can, of course, seek out providers that accept lump sum payments. If you don't, though, you'll have to factor in that additional monthly cost to your budget. As such, it'd make sense to seek out the kind of coverage that best suits your needs and lifestyle.
Average Monthly Auto Insurance Rates in MI (Liability, Collision, Comprehensive)
The average cost of core coverage – liability, collision, comprehensive, or any combination of the three – is the number that'll most likely concern you. We've compiled a list of the previous annual costs of different types of coverage in Mississippi and across the nation for you to take a peek at.
Be warned, though. These rates will unquestionably be higher as of 2019.
Mississippi, it's worth noting, does not require you, as a driver, to have any additional coverage beyond that of the state minimum. However, if you find that you're underinsured and in an accident, you may realize that skipping over some of these additional plans costs you more, in the long run.
So what kind of additional coverage is available to you? Let's take a gander at some of your options.
Additional Liability in Mississippi
The coverages that we touch on in the chart above are only a few of the additional types of coverage you can make use of as a driver in Mississippi. They are optional, of course, but there's also a benefit to them.
Medical Payments, or Med Pay, and Uninsured/Underinsured Motorist Coverage alike both help you stay on top of your bills in case you get in an accident with a driver who doesn't have enough coverage to bear the brunt of the blame.
Not only does this additional coverage make sure that your injuries or property damage are appropriately seen to, but it ensures that the other driver won't go bankrupt trying to pay for the cost of the accident.
Still think you might not need any additional coverage?
Mississippi, out of the 50 states in the United States, ranks 2nd for the most uninsured drivers operating on its roadways today, according to the Insurance Information Institute.
Do yourself a favor, then, and consider your future as a driver with caution.
Loss Ratios in Mississippi
It's also worth noting that in the aforementioned table we touch on Mississippi's state loss ratios. What's a loss ratio? That percentage represents the amount of coverage auto insurance companies pay out on claims annually.
When you're comparing auto insurance companies, the loss ratio can be quite the telling number.
On one hand, a high loss ratio suggests that a auto insurance provider will frequently pay out on your coverage in full. This is great, should you get in an accident, but it's also not the most financially-sound business practice.
On the other hand, a lower loss ratio implies that auto insurance companies are less likely to pay out your coverage in full, should you get in an accident. This is less great for you, should you be the person found at-fault or on the other end of an underinsured driver's bumper. However, lower loss ratios also reflect some financial caution within a auto insurance agency.
The best thing to do, when looking at auto insurance companies' loss ratios, is to find one that's about in the middle of the spectrum.
Add-ons, Endorsements, and Riders
Once you can estimate how much a auto insurance provider will be willing to pay out in case of an accident, you can start considering additional add-ons to your minimum policy, including the ones listed below:
Rental Reimbursement
Emergency Roadside Assistance
Mechanical Breakdown Insurance
Average Auto Insurance Rates by Age & Gender in MI
There is a myth that frequently finds its way into auto insurance conversations. This myth says that male drivers are riskier drivers than female drivers, and as such, male drivers are charged more for their insurance than female drivers.
This isn't always the case. In Mississippi, both gender and age play into the amount a person is charged for their auto insurance coverage. In a handful of cases, women are even charged more than their male counterparts! While males pay more in their youth, around the age of 25 women end up paying more on average. Talk about biting back against a long-standing myth.
Age, as you can see, is also a significant factor in the cost of insurance in Mississippi. The older drivers get, the more likely they are to see their auto insurance rates mellow out, regardless of gender. Experience, after all, has to pay off somehow.
Highest and Lowest Insurance Rates by Zip Code in Mississippi
The area in which you've registered your car in Mississippi may also impact your auto insurance rates.
As you can see, drivers operating out of Woodville are charged significantly more for their auto insurance than those based in Hermanville. Where does your zip code rank?
Highest and Lowest Insurance Rates by City in Mississippi
You can even look into the way that the city you live in impacts the cost of your auto insurance. Take a look at the listings below:
As you can see, there's a fairly standard trend in auto insurance costs when the numbers are compared by city. It just goes to show that a combination of different factors – some uncontrollable, like age, and some otherwise, like location – can impact the way you have to budget over the course of a year.
Free Auto Insurance Comparison
Enter your ZIP code below to view companies that have cheap auto insurance rates.
Secured with SHA-256 Encryption
Mississippi Auto Insurance Companies
It won't surprise you to learn that when it comes to auto insurance, you have options. There are dozens upon dozens of auto insurance providers across the country, not to mention in Mississippi.
The great thing about that variety is that you have plenty of options to choose from when it comes to determining who you want to cover you as a driver. The bad news is that you have to sift through every auto insurance provider's website if you really want to be sure that you're getting the best deal possible.
Don't spend hours staring at a screen. We've done your research for you! Take a look at our guide to Mississippi auto insurance, and you'll be on your way to affordable coverage in no time at all.
The Largest Companies Financial Rating
The easiest way to rate the auto insurance providers in Mississippi is to take into account their AM Best Rating. An AM Best Rating helps you determine a auto insurance provider's financial strength. The better the rating, the more financially secure the company in question is.
Take a look at the table below, and you'll see what we mean. You'll also note that a number of companies in the state of Mississippi have A+++ ratings. What do those three extra plus signs mean? Every plus sign on an AM Best Rating indicates additional financial security.
The AM Best Rating is most dramatically impacted by a company's loss ratio. When you're looking into a auto insurance provider, you'll find companies with high loss ratios and companies with lower ones.
A high loss ratio indicates that a company is willing to pay out on more claims than others. This means that you'll be covered in case of an accident but also that the company in question may be a little less financially stable than its competitors.
Comparatively, a company with a low loss ratio is fairly financially stable. However, these companies are also less likely to pay out on your claim, meaning that you'll be less likely to be completely covered in case of an accident.
We recommend looking for a company with a loss ratio somewhere in between these two extremes.
Companies with Most Complaints in Mississippi
On a more subjective level, we've also taken note of the auto insurance providers that have garnered the most client complaints. Complaints, of course, are personal. Still, the more complaints a company gets, the more you can learn about their HR departments and the services that they may be slacking on.
Mississippi Auto Insurance Rates by Company
You'll also note that insurance rates naturally vary by company. Check out the data below for a basic state overview.
You'll note that a number of providers in the state of Mississippi have rates that contest strongly with the state average of $3,664.82.
Commute Rates by Company
Some insurance providers will also charge you more for your coverage if you note that your work commute is longer than 10 miles.
As you may have guessed, drivers with longer commutes are likely to pay more for their auto insurance coverage than those drivers with short commutes.
Though this may seem harsh, it's nothing compared to how some other factors affect your rates.
Coverage Level Rates by Company
If you're looking to save money, you may think that going with a company's lowest rate of coverage will be good for your pocketbook. This isn't always the case, though. Purchasing better coverage means that you'll be more secure in case of an accident, whereas relying on a company's minimum coverage could result in you having to pay for property damage or personal injury out of pocket.
As you can see, the rates between low, medium, and high insurance policy rates don't always vary that much. A few extra hundreds spent on your insurance could be the difference between total accident coverage and a dwindling bank account.
Credit History Rates by Company
As you may have guessed, you'll likely get a better auto insurance rate if your credit is good. This isn't to say that credit is the end all, be all of auto insurance rates, but it certainly contributes to the rate that you're likely to be offered by a provider.
The average credit score in Mississippi is 647.
Mississippi's average credit score is, in fact, about 28 points lower than the national average, making Mississippi one of the top 10 states in the union for low credit scores.
Driving Record Rates by Company
Your driving record will likely have the greatest impact on the rate that a auto insurance provider is able to offer you. Consider the following:
As you can see, certain accidents or violations have more financial consequences than others. A DUI with Liberty Mutual, for example, costs you less than a DUI with Geico.
Number of Insurers by State
Domestic insurance coverage and foreign insurance coverage are both more complicated and less complicated than you might expect. Consider the chart below:
Now, any auto insurance procured in Mississippi is considered to be "domestic" insurance. Comparatively, insurance gained in any other of the 50 states in the United States is considered "foreign." It's a little different than what you might expect, isn't it?
Mississippi Laws and Legalities
Staying on top of driving laws can be difficult from state to state. If you do your research, though, and keep your knowledge of different street-side legalities up to date, you'll be more likely to remain a safe driver over the course of your adult life.
What, then, are the driving laws in Mississippi? Take a look at our comprehensive guide to the laws that Mississippi drivers have to follow in order to avoid an undeserved fine and unnecessary stress.
Auto Insurance Laws
We've already touched on Mississippi's insurance requirements. Minimum liability coverage is a must for Mississippi drivers. Mississippi minimum liability insurance coverage is listed as 25/50/25, according to the state's insurance department. These numbers break down as follows:
25 – you'll need $25,000 of coverage in order to attend to the injuries of a single person
50 – you'll need $50,000 of coverage in order to cover the total injuries per accident
25 – you'll need $25,000 of coverage in order to pay for the replacement of any property that might be damaged during an accident.
High-Risk Insurance
High-risk drivers in Mississippi are drivers who have driving records that aren't especially glowing. If you're a high-risk driver, then you might have a bit of trouble finding a provider who is willing to cover you.
What factors contribute to someone being listed as a high-risk driver? They include:
DUI or DWI conviction
A reported traffic violation that resulted in serious injury of another person
Driving without insurance or proof of insurance
Owning a sports car or other vehicle that could be considered "high-risk"
Driving at 70 years of age or older
If you can't find a provider who is willing to cover you due to your driving record, then you may qualify for coverage through the Mississippi Automobile Insurance Plan, or MSAIP. Learn more here: minimum coverage for auto insurance in Mississippi.
In order to apply and qualify for this coverage, you'll need:
A valid Mississippi's driver's license
An up-to-date car registration from a Mississippi DMV
Low-Cost Insurance
Even though MSAIP is offered through the state of Mississippi as coverage for high-risk drivers, the state itself does not offer any government-sponsored insurance for drivers who have low incomes.
If you live in a low-income household, there are still ways that you can better afford auto insurance in the state of Mississippi. These include:
Accident-free Insurance Discounts
Affiliation/Preferred Employer Discount
Anti-Theft Discount
Auto-Pay Discount
Good Student Discount (for younger drivers only)
Homeowner Discount
Multi-Car Coverage Discount
Green/Hybrid Discount
Windshield Coverage
If your windshield gets cracked for any reason – a falling tree branch, unseasonably cold weather, or otherwise – you're stuck with the unfortunate reality of replacing your windshield in order to drive effectively and safely.
Mississippi, however, has no laws in place that require your insurance provider or any insurance providers in the state to cover the parts or time needed to have your windshield replaced professionally.
Just because the state doesn't take Windshield Coverage into consideration, though, doesn't mean that comprehensive coverage plans or various insurance providers won't have windshield coverage available as an add-on. You'll need to talk to your provider and see if any additions of the like are available to you.
Automobile Insurance Fraud in Mississippi
Insurance fraud is something of a tricky topic. The good news is that automobile insurance fraud is not fraud that can be committed unintentionally. Automobile insurance fraud, rather, requires intention.
In Mississippi, auto insurance fraud consists of:
Intentionally faking an accident
Placing a false insurance claim
Padding your insurance claim
The consequences of auto insurance fraud include considerable fines, jail time, and community service as deemed appropriate by a representative of Mississippi's fraud bureau and a judge.
Statute of Limitations
Every state in the nation makes use of a statute of limitations when it comes to car accidents. But what is the statute of limitations, exactly?
After you've been in an accident, and regardless whether or not you caused the accident or were on the receiving end, you'll have a limited amount of time to submit a claim to your provider.
In Mississippi, you have three years to submit an insurance claim noting personal injury or property damage as the result of an automobile accident.
Lemon Laws
One of the more state-specific laws in Mississippi is its "lemon" law. More officially known as the "Motor Vehicle Warranty Enforcement Act," "lemon" caught on as the more colloquial way to refer to this piece of legislation. What does "lemon" refer to? Not the fruit, that's for sure.
A vehicle is known as a "lemon" vehicle if it's spent most of its existence in an auto shop.
If you buy your new car from a repair shop, then, you'll have a few state laws in place protecting your purchase.
You'll know that your car is a "lemon" car if any of the following apply:
Something is notable wrong with the vehicle at its time of purchase
The issue in question has to be covered by a warranty
No matter the repair effort, the issue is persistent
If you've bought a lemon vehicle, then, you have some options available to you. You can:
Trade the lemon car for a comparable vehicle or a vehicle of equal value
Accept a return and refund of the full purchasing price of the car
Vehicle Licensing Laws
Let's say you're a driver who wants to take the risk of driving without insurance, even Mississippi's state minimum. If that's the case and you get caught, you can incur some significant penalties.
For first time offenders in Mississippi, driving without insurance will result in a $1,000 fine and the suspension of your driving privilege until you can show proof of insurance or until a year has passed.
We've touched on different acceptable forms that can serve as proof of insurance, but once again, they include:
Insurance ID Card
Your Insurance Policy's Certificate
A Certificate of Deposit which indicates that you've paid your insurance dues to the Mississippi State Treasurer
Proof of a bond
Penalties for Driving Without Insurance
You may also have to file for an SR-22, or "proof of financial responsibility." This certification verifies to the state that the insurance company that will serve as your new provider will cover you for the state minimum liability for a set period of time after your encounter with an officer on the road.
Note: an SR-22 does not count as insurance. However, it can make sure that your driver's license doesn't get revoked, should you be caught driving without proof of insurance.
Teen Driver Laws
It's always exciting – and a little nerve-wracking – when a teenager gets her license. In Mississippi, as in many other states, teenagers can apply for a learner's permit at the age of 16. The requirements for obtaining a learners permit and eventual full license are listed in the chart below.
It's worth noting that drivers who are 17 years of age or older don't have to rely on a learner's permit but rather can move straight on to a restricted license.
[table "1136xA0responsivescroll" not found /]

Older Driver License Renewal Procedures
In Mississippi, you're required to renew your license every 4-8 years, according to the Mississippi Department of Public Safety. It's possible for you to do so online as well as in-person at the DMV. It's recommended that you get your eyesight checked at the same time as your license renewal, but Mississippi does not legally require you to do so.
New Residents
If you're just moving to Mississippi, make sure you check in with your current insurance provider to update your mailing address and additional information. Your rates will likely change as you move from state to state, and you'll need to make sure that you comply with Mississippi's 25/50/25 minimum limits.
License Renewal Procedures
Though we've touched on the process of renewing your license already, you can check out the following chart for all of the nitty-gritty details.
Rules of the Road
Along with state-wide legislation, there are certain rules of the road in Mississippi that you'll need to be aware of in order to be a safe driver. Keep reading in order to learn a little bit more about the different legalities that keep the Magnolia State's roadways as safe as possible.
Fault vs. No-Fault
"At-fault," as a descriptor, is used to label the person who is to be considered responsible for an accident or fatality. The party who is determined to be "at-fault" at the site of an accident will be required to take responsibility for the costs of any injured parties as well as the replacement of any property damaged in the crash.
Mississippi is an at-fault state, according to Nolo.com. This means that you need to make sure you have enough insurance coverage to attend to the needs of any parties who may be injured or property that may be damaged in an accident you cause. Without the right coverage, you may be facing an empty bank account as well as your own medical or property costs.
Keep Right and Move Over Laws
Generally speaking, drivers who are going slower than the posted speed limit are required by law to stay on the right side of the road, leaving the other lanes available for passing.
You're also required to move to the right and slow down when you see an emergency vehicle driving your way on the road. These vehicles include:
Firetrucks
Ambulances
Utility Vehicles
Law Enforcement
Any driver with their hazard lights on
By moving to the side, you ensure that these emergency vehicles and other such cars can get to where they need to go unimpeded. By moving right, you may be saving someone's life!
Speed Limits
You might think that the speed limits in Mississippi would differ based on whether they took you through a rural area or an urban one. That doesn't happen to be the case! Take a look at the chart below.
As you can see, you can generally expect to go 70 miles an hour if you're on any of Mississippi's interstates. Do note, though, that these are the state's maximum speed limits. Don't hesitate to slow down a little if you're whipping through curves or in an unfamiliar area!
Seat Belt and Car Seat Laws
Seat belts do a lot of work when it comes to saving people's lives in car accidents. Mississippi, like a number of other states in the union, requires drivers to wear their seat belts whenever a car is in motion.
Children, in particular, need to be treated with care in a car. These child safety seat laws in Mississippi are notably different than those in place for adults, but they're no less important.
Passengers in the cargo area of a pickup truck are not yet subject to any of Mississippi's seat belt laws, but use common sense and do what you can to be careful when you have passengers who aren't strapped into their seats around.
Ridesharing
With the rise of Lyft and Uber, auto insurance providers have begun instating new policies for drivers who work through their cars.
As of this point in time, State Farm is the only auto insurance provider in the state of Mississippi to offer ridesharing coverage to drivers.
If you're interested in using your car to make a quick buck, then, talk to your employer about company coverage. Otherwise, you'll need to do a bit of hunting to make sure that your auto insurance policy is insurer-friendly.
Safety Laws
What about your personal safety and its impact on your insurance and driving record in Mississippi? Don't worry – we've got you covered.
DUI Laws
Drinking before driving is one of the worst decisions you can make. And yet, Mississippi saw 148 alcohol-impaired driving fatalities in 2017 alone, according to the DUI Department.
Mississippi has instated a number of DUI laws with the intent of keeping all drivers on the road as safe as possible. We've detailed these laws below.
If you get caught drinking and driving more than once, you'll find that you and your wallet alike are in for a world of hurt.
If you get caught driving while intoxicated for the third time, you will face felony charges, without question. Do yourself a favor, then, and go out on the town with a designated driver or stick to drinking at home. The consequences of drinking and driving aren't worth the temporary buzz.
Distracted Driving Laws
In a similar vein, driving with a cellphone in hand can result in a serious accident. You need to keep both eyes on the road at all times in order to ensure that you're aware of other drivers around you.
Mississippi, with the increase of cellphone and Bluetooth popularity, has instated the following distracted driving laws.
Mississippi Can't-Miss Auto-Facts
With the legalities out of the way, we can move on to some of the have-to-know facts that permeate the roadsides of the Magnolia State. Keeping your car safe isn't easy, wherever you live, but with these facts in your back pocket, you'll have a better time of it in Mississippi.
Vehicle Theft in Mississippi
Pickup trucks are popular in the south. They are so coveted that they beat sports cars as the cars that are most frequently stolen in Mississippi!
If you have a full-size pickup, do what you can to keep an eye on it. Although these cars are big, they can often disappear between one heartbeat and the next.
Vehicle Theft by City
You can also estimate the chances of a fatality in your area based on the vehicle thefts that have taken place in each of Mississippi's cities:
The more people live in a particular city, the more like a car is to go missing. Jackson, for example, is Mississippi's state capital, and it sees the most stolen vehicle reports filed out of all of the state's urban areas.
Dangers on the Road in Mississippi
That said, there are other dangers in Mississippi beyond petty thieves. Take a gander at the chart below, which divides fatality rates throughout Mississippi down by county.
Fatal Crashes by Weather and Light Conditions
Weather can contribute to the number of fatalities a state sees. Mississippi is a bit of a rainy state and, in spring as well as winter, is prone to flooding, according to the National Weather Service. You'll want to take care while on the road during a thunderstorm and do what you can to take flood warnings in your area as seriously as possible.
Traffic Fatalities
Traffic, traffic congestion, and the area in which you're driving also contribute to your likelihood of an accident. We'll touch on all of these factors and more in order to ensure that you have all of the fatality-related information you need available to you at a moment's notice.
Let's get started with a rural vs. urban comparison. You'd think that urban roads would be the site of more fatalities than urban. In the case of Mississippi, you'd be mistaken.
Even though rural roads in Mississippi have the same posted maximum speed limit as urban roads, rural roads are said to be less well policed. As such, drivers in rural areas may feel more comfortable speeding there than they would in a bigger city.
That need for speed, as you can see, results in far more accidents on country roads.
Fatalities by Person Type
Different types of people – passengers, pedestrians, nearby bikers, and so on – are also at differing risks for auto fatalities.
Fatalities by Crash Type
Fatality rates will also differ depending on the type of vehicles or the number of vehicles that are anticipated as being involved.
As noted above, single vehicles are consistently more likely to the victims of a fatality than two or more vehicles, and intersections have caused more accidents than large trucks.
Five-Year Trend For The Top 10 Counties in Mississippi
Over the past five years, the different counties in Mississippi have reported the number of fatalities that have occurred in the area, giving us a fair look at the safety records of each county.
If you're looking to move to Mississippi, you may want to keep this information in mind.
Fatalities Involving Speeding by County
Speeding, similarly, varies by county. You might anticipate that more rural counties see fatalities as a result of speeding than urban, but it truly just depends on where a person is located in the state.
Fatalities in Crashes Involving an Alcohol-Impaired Driver (BAC = .08+) by County
While we've touched on Mississippi's DUI laws before, it's still worth noting which counties in the state have seen the most alcohol-related fatalities in the past five years. This isn't to say that you should avoid these counties, but you may want to take some additional care when driving in the area.
The aforementioned table would be worthy of concern if it consisted of adult drivers alone. Unfortunately, though, this table keeps count of fatalities that have involved drunk teenage drivers, as well.
In 2018 alone, Mississippi saw 66 arrests of drivers under 18 years old who were at the wheel while drunk.
In light of these numbers, Mississippi currently ranks as the 22nd most dangerous state in the United States for drunk driving.
EMS Response Time
Whether you've been in an accident as a result of drunk driving or sheer bad luck, you'll want to know how long it takes Emergency Medical Services to get to your side. The travel time of the EMS will vary based on where you're located in the state.
As you can see, it takes Mississippi's EMS less than an hour to get your from your car accident to the nearest medical facility. No matter if you're driving in a rural area or an urban one, you can feel confident in the knowledge that should an accident occur, you'll be in EMS car in little to no time at all. The quick response time is a boon to new and experienced drivers everywhere.
Transportation Through Mississippi
With all of the variations on fatality statistics in mind, we can move on to a brief exploration of the data that may impact your day-to-day driving routine.
So: what do the commutes throughout Mississippi look like? How many cars does the average Mississippi resident have? We have all of your answers below.
Car Ownership
In general, Mississippi residents have two cars per household, but the number of households with three actually outnumber those with one! No need to feel out of place, though, if you only have one car – practicality is never a bad thing.
Commute Time
Commutes in Mississippi tend to take 23.8 minutes, in general, whether you're living in rural areas or urban ones.
Though that time is, in fact, lower than the national average, 2.63 percent of employees working and living in Mississippi, in fact, have to commit to a super-commute.
A super commute is a commute that takes over 90 minutes to complete. Talk about a morning haul!
Commuter Transportation
You might assume that traffic contributes to those unfortunate super-commutes. The fact that 84.6 percent of Mississippi residents drive to work by themselves would hypothetically support this conclusion.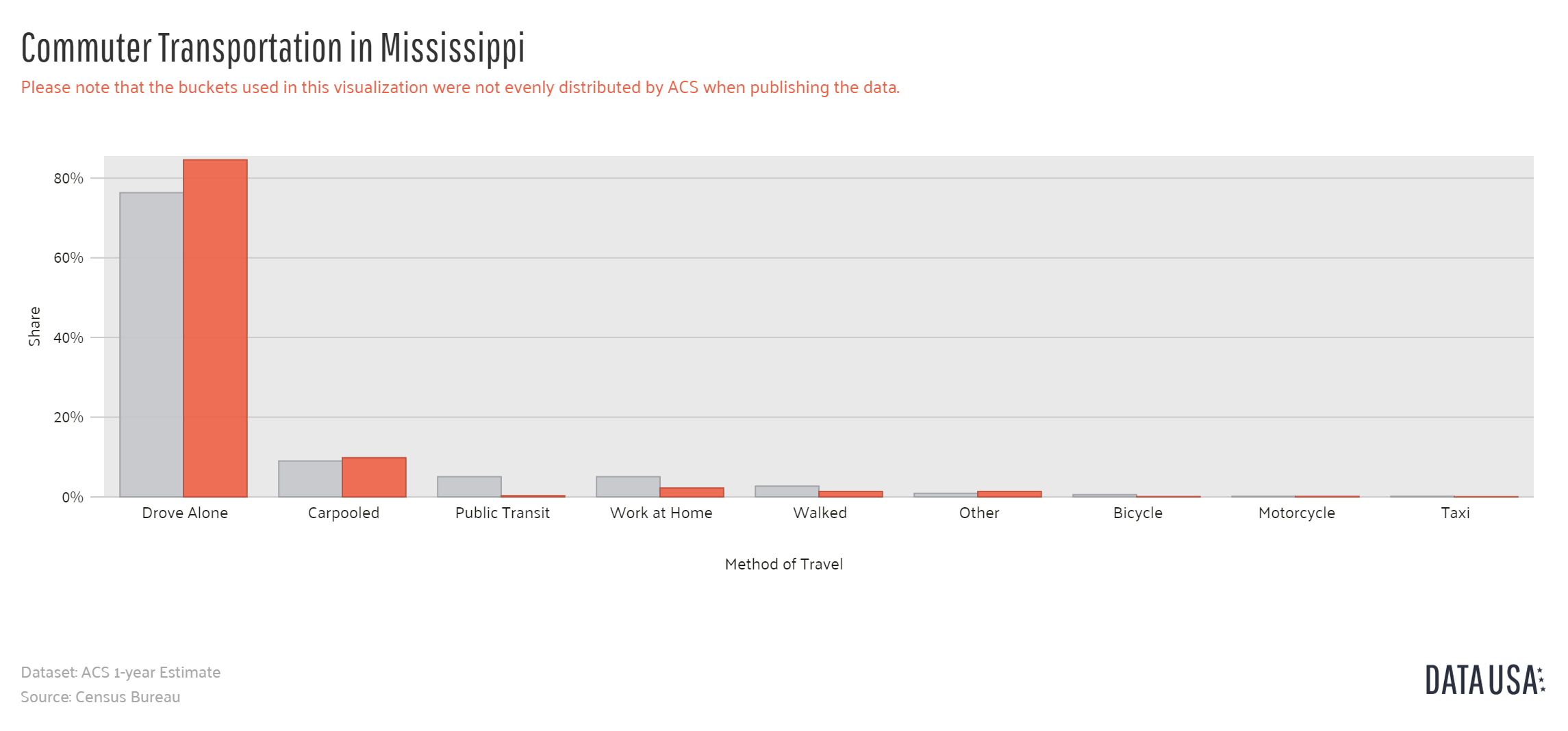 However, traffic congestion isn't much of a problem in Mississippi. None of the cities in the state appear in the INRIX scorecard for global traffic, which means that they aren't ranked or noted as having considerable morning, afternoon, or post-workday traffic.
With that, we've shared everything we know about car use, automotive insurance, and the different driving laws in Mississippi. So, if you're a Mississippi resident looking to compare the available coverage in your area, or if you're just moving into the state, don't fret. You can consult this guide as you like in order to make sure you're getting the best possible deal on your insurance.
Want to check out a personalized comparison? Enter your zip code into our FREE online comparison tool and find the best insurance policy for you.